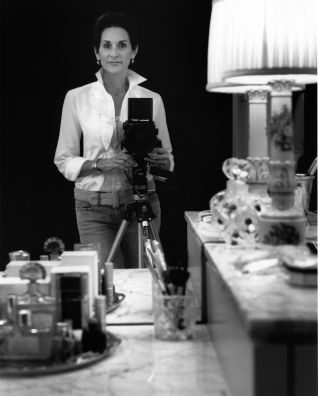 Jean Karotkin: Artist/Bio
Documentary/portrait photographer Jean Karotkin began making black and white portraits of breast cancer survivors in 2001 as she herself was undergoing treatment for the disease. Her intent was to explore the counterintuitive nature of female beauty and the ways it can be enhanced by angry scars and indomitable courage. Her images garnered recognition from the Dallas Morning News, Texas Monthly, CNN and NPR, among others, and were exhibited at The Houston Center for Photography and the Amon Carter Museum of American Art.
Karotkin's subsequent portrait series, Mirrors– featuring drag queens, burlesque dancers, and the inmates of Chowchilla women's prison – also highlight and disrupt prevailing notions of beauty. Women imprisoned feel utterly invisible to themselves and to those of us who are free. Featured along with the artist, in the November 2021 issue of FotoNostrum Magazine. were images from Karotkin's most personal body of work: Disappearing Soul: Self Portraits in the time of Covid, for which the seventy-year-old turned the camera on herself to capture the languishing effects of Covid-related isolation. The series was awarded an honorable mention from the Julia Margaret Cameron Competition, recognized by the L'OEIL de la PHOTOGRAPHIE and ARTDOC, featured in the April 2022 issue of Lens magazine and spotlighted by the Los Angeles Center of Photography.
Karotkin recently completed a second collection of self-portraits for this Disappearing Soul series. For this body of work, which was shot at a Long Island roadside Motel and is entitled West Shore Motel, the artist continued to address the human need for companionship. However, here she added an implicitly sexual element to the narrative that distinguishes it from the series' initial installment and boldly implies the type of desire that women "of a certain age" are traditionally denied.
Karotkin's portfolio also features an expansive commercial series of botanical prints, entitled Gymnopédies, in which she eschews context and convention to expose some of nature's more subversive personalities. Last year, 91 of these prints were acquired by and installed in The Park Belvedere, an Upper West Side New York condominium, at 101 West 79th. The Museum of Arts and Design also added one to the art collection featured in their restaurant, Robert. The March 2023 issue of Lens Magazine featured Karotkin's bold and magical color images from Gymnopédies.
Along with her growing botanical series, Karotkin is currently working on a monograph entitled (In)sight:Women Who Work Behind the Lens, a collection of black and white portraits of some of the most eminent female photographers and curators working today. In April 2022, images from the series were exhibited as part of a group show at the Soho Photo Gallery in New York, NY.
Born in Dallas, TX, Jean Karotkin lives in New York City.